I just wanted to say that I am touched by the cards I have received from you guys even though I haven't been here. From the bottom of my heart THANK YOU! I wasn't expecting any cards so it was a lovely surprise. Christmas has really crept up on me unexpectedly this year so I'm sorry that I haven't posted any cards to you guys – I'll get them out to you next week!

I don't have any festive videos but I think that now is a good time to share a (fairly old) but adorable video of my cats with you – the music is kind of Christmassy anyway. Enjoy!



Merry Christmas to all of you, even if some of your Christmases are already halfway through!
I am aware that I haven't posted an entry in 6 months which is shameful and that I also have posted very few comments in that time, just to say that I AM SO SORRY! I've been keeping track of what's happening on livejournal but I haven't contributed at all which is a great shame.
Current Mood:

sleepy


My sister rang home about 10 minutes ago - clearly drunk, saying that she was bringing her friends home. It's nearly 3am goddamnit and I'm in no mood. She wouldn't dare do something like this normally, but my parents are away - they left earlier today (well Saturday) for a 2 week holiday in Lake Garda in northern Italy. Well, I told her straight that she was drunk, her friends were drunk, that if she brought anyone home then I'd lock her out. I've locked the porch to our house from the inside and left the key in it so hopefully that'll keep her out but I'm not sure. She'll probably start banging on the windows, ringing the phone and making a racket. Hmm, is it possible to call the police if people are being drunk and diorderly, even if they're your sister's friends?

Argh, there goes my phone. I wouldn't mind but I have a French oral exam (worth 30% of my language grade) on Tuesday morning and I REALLY need to study for it (and get sleep in order to do so). I don't want her dragging 'friends' - probably some random guy -into the house that my parents trusted me (the sensible one) to look after.

I hear a guy in the back garden and I left my light on. Crap, they know I'm awake now. What do I do?!! I'm totally stuck!

EDIT: So, after about 10 minutes I pick up the phone, she threatens to call the police but I don't believe her. Then I try to ring my poor parents but of course no reply (I can't blame them). I go downstairs, turn on the lights - no sign of her and she won't answer her phone. 10 minutes later she starts throwing stones at my window and banging. Well, I have to let her in but I'm in my PJs so I don't want anyone to see me. So I unlock the front porch and go back upstairs. 4 minutes later she rings me whining - I thought she was inside already! Turns out she was in the back garden and didn't want to climb over the gate to go in the front door so I had to open the back one. I marched upstairs and locked myself in my room. There was no way I was getting to sleep with my sister bringing some guy in for her latest fling (she laughs that I call it a 'fling' - what other word am I supposed to use?). So now it's 4:30am and I haven't gotten a wink of sleep. I have to thoroughly research 4 topics and a bunch of questions for my oral exam and I'm going to seriously struggle. There's no way my sister is going to speak to me in french and I'm without my Francophone mother to help me.

Pent up, I started a thread on IMDb pointing out the historical accuracies in the latest Doctor Who episode which had Vincent van Gogh in it. Not the greatest idea for a thread, especially because most fans are saying "it's a TV show get over it", but seeing as I'm studying art history and have picked up a lot of information on van Gogh (especially after visiting some of the places he lived and worked in) I couldn't keep quiet. Anyway, I guess I'd better call it a night. I suspect, though, that I'll sleep until the middle of the afternoon and then I'll struggle to get up at a decent time on Monday and will then struggle to make it to my 10am exam on Tuesday. My sister knows I have an exam - I helped her with hers last year by inviting her to visit me in France so that she could practice her French. And how does she repay me? By letting me get no sleep in the run-up to an exam. *Sigh* Sisters, you have to love them, but it can be tough to live with them!
I know I haven't posted here in months - and I'm sorry I've been very busy finishing my degree - I'll give you a full update soon, but I had to write NOW!
Current Mood:

anxious
If you could choose which fashions would go out of style permanently, what would you choose, and why?
Ugg Boots!
I HATE them! The amount of Irish girls that wear them all the time, all year round, is ridiculous. They are UGG-ly! There's just no comparison between them and a good pair of leather boots (and it's not like you can argue that they're kinder to animals because they are BOTH suede and sheepskin). I lived in France last year and there wasn't an Ugg Boot in sight. Take a leaf out of the French girls' book; don't wear them! At least not all the time. I mean, if it's freezing cold then I understand, but it's rarely that cold in Ireland. Fine if you're an Australian sheep farmer - not fine if you're trying to look attractive.
(
Read more...
Collapse
)
Wish us the best of luck because we're going to really need it! Have a great weekend, all of you!
I'm off to England tomorrow to pick up the new kitten. My mother and I are flying to Bristol in the morning and then renting a car to drive to our hotel, which is near where the cat breeder lives.
Current Mood:

anxious
Star Wars, Star Trek, Battlestar Galactica, Serenity, Alien, 2001—there is a long list of movies and TV shows that take place in space. Which is your favorite?
I have a soft spot for Galaxy Quest because it doesn't take itself too seriously. Plus it has Sigourney Weaver and Alan Rickman ;D Other than that probably the old Star Wars films, but Galaxy Quest came to mind first.
Bea sleeping on my sister's lap. The scarf around her neck is not some cruel accessory but a way of stopping her from scratching her stitches. She likes it if you put your legs up so that she has more room to stretch - spoiled cat!
I hate to kill the mood and report bad news, but I need to get it off my chest.
(
Read more...
Collapse
)
Current Mood:

thoughtful
Happy birthday to abble4b aka Cate - the only livejournaler I've met - but if she's anything to go by then you must all be really, really nice! Have a great one, Cate! I'm not great with graphics, but I know that you wanted to see my pictures of that pirate festival, so here are the best ones! I hope you can go next year seeing as it's usually on during your October holidays and that it's less than half an hour away from where your parents live ;P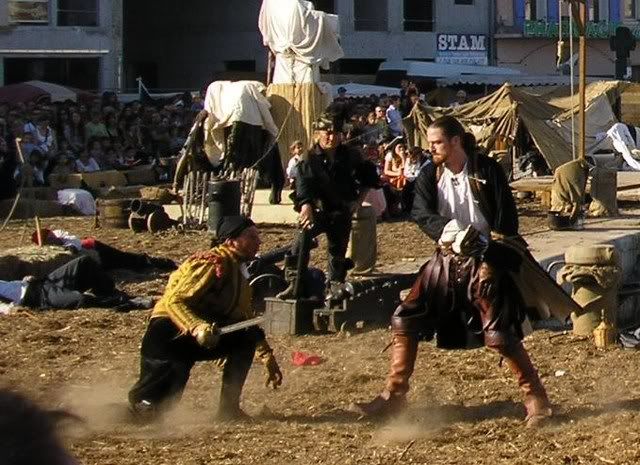 You Can View All of My Photographs here;
http://s200.photobucket.com/albums/aa110/ali-babble/La%20Ciotat%201720/?albumview=slideshow
(
Read more...
Collapse
)


Hope you're all doing a bit better than me!

I'm so glad that Exit the King is doing so well. Not that I'm surprised!

And happy birthday Penny (guess it's already the 4th there) - not that she'll see this anyway.

And I'm so sorry to see that your student's condition has worsened, Cate. Life is tough, especially when it's tragically short. I guess all we can do is pray for a miracle. ;(
Sorry guys, I've been away. My computer broke - my hard disk is destroyed. I'm having a new one sent to me. I don't know how it happened - I'm not THAT bad with computers, they can just be touchy, I suppose. Unfortunately I've probably lost everything on my computer. Memory, photos, writing - everything. I haven't lost all hope but the prospects don't look good. So without a laptop don't expect to be seeing me much online. I'm so bored living in a small room without TV or a laptop or anything - and it's raining. But I'm still doing fine in spite of that. I'm drawing and painting for the first time in a long time, so I guess that's a plus!
Current Mood:

tired